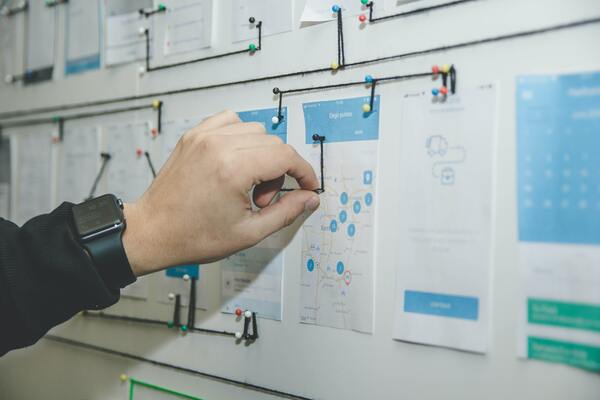 IF you operate a business in the post-COVID shutdown world that relies on e-commerce to exist, THEN you must employ marketing automation & workflows IMMEDIATELY if you plan to compete and survive.

Marketing Automation empowers you to construct nearly every "if this, then that" scenario imaginable in order to communicate in the most granular and unique ways.
In addition to the obvious benefits of survival, workflows are a marketer's dream!
CHECK OUT: Marketing Automation & Email Marketing Apps
The preceding screenshot is an example of an active workflw in a mature HubSpot portal.
Here are some additional examples:
If someone visits your website and downloads content, we can make an assumption about their interests and then score that individual so that their next point of communication includes additional relevant information.
A workflow will conduct a series of actions following a download.
Next, the visitor should get an email with an infographic that is relevant to the e-Book they downloaded. Workflows are automated based on the first action the viewer takes. Essentially, a workflow is a tool used in the close stage of the buyer's journey, where you can trigger a set of automated actions based on a customer's behaviors or information provided. Yet workflows go beyond simple marketing automation. With workflows, one can send emails, update contact information, add or remove contact and trigger notifications, which are all "back-end" functions that improve the internal communication in your organization.
SOME OF OUR FAVORITE APPS FOR MARKETING AUTOMATION & EMAIL MARKETING
| | |
| --- | --- |
| | Discuss HubSpot w. our digital marketing agency |
| | Mailchimp is an excellent platform for engaging your customers while boosting your business. Mailchimp's advanced, yet easy‑to‑use marketing platform is intuitive and includes a bunch of customizable templates to get your next campaign live. |
| | Constant Contact is great for anyone who needs email marketing campaigns, easy to build websites, uploading products to your online store, generating social media awareness, and boosting sales via Google Ads. |
| | Moosend is the fastest path from email marketing to business growth. It includes all the benefits of email marketing without needing to code. |
| | Supercharge your sales team with Reply, a sales engagement platform that helps you automate & scale multichannel outreach, so you can generate more leads, acquire new customers and grow revenue faster. |
| | Autoklose helps you and your team target prospects, engage audiences, and grow your business using its email automation and database capabilities. |
| | Factoreal includes a a full suite of email marketing capabilities. From templates to automations, Factoreal provides the tools you need to launch a meaningful email marketing campaign and more. |
Workflows have many benefits, including converting, customizable timing, varying content delivery, as well as time-efficiency.
GET GOING WITH WORKFLOWS!
Where should I go to learn more about workflows?